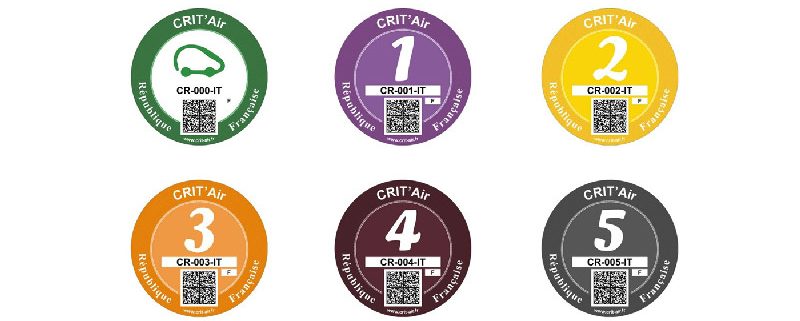 Avoid fine: Environmental sticker France
Since July 1st 2016, there is a new legislation in France called Crit'Air. Since this legislation, French municipalities can appoint environmental zones. The purpose of this is to reduce the emissions of nitrogen oxides and particulate matter. It is therefore obligatory for national and international motor vehicles to possess the environmental sticker Crit'Air Ecovignet. So when you transport your horses to France, this is definitely something to keep in mind! We looked up the details for you.
What does an environmental zone mean?
In an environmental zone, only vehicles with an environmental sticker are allowed in on workdays between 08:00 and 20:00 'o clock. An environmental zone may consist of:
1. A restricted traffic area
2. An air quality zone
Which sticker do you need?
The environmental sticker distinguishes between older, newer and environmentally friendly motor vehicles. The sticker consists of six categories and ranges from categories 0 to 5, with 5 being the most polluting. Each category has a different colour sticker. Via this link you will find out which Crit'Air Vignet you need for your type of vehicle.
Order your environmental sticker
From February 1st 2017 it is also possible for non-registered vehicles to order the environmental sticker. This can be done via this link. The price of a vignette is € 3.70. Including shipping costs, the total amount for (French) vehicles is € 4,18. Please take into account a delivery time of approximately 10 days.
Strict control from July 1st 2017!
As of July 1st, 2017, the police will carry out strict controls. If you do not have an (visible) environmental sticker for your (horse) truck, you will receive a fine of € 135, -. For passenger cars the fine is € 68,- euro.
https://www.horsetravel.nl/wp-content/uploads/2017/07/milieusticker_frankrijk-lumaro.jpg
457
800
equinemerc
https://www.horsetravel.nl/wp-content/uploads/2017/03/logo-lumaro-retina-300x82.png
equinemerc
2017-07-05 10:20:46
2017-07-05 16:49:35
Avoid fine: Environmental sticker France